Picturesque mountain villages, scenic hiking trails, stunning beaches and mo. Located between Thessaloniki and Athens, you'll find the beautiful region Pelion (also called Pilion). The area has surprised me a lot! Scuba diving, hiking, climbing, swimming, rafting, skiing … there's something to do for everyone – all year round. I worked remotely from there for two weeks in October and explored the beautiful Pelion mountain in my free time. Now, I would like to share all my tips with you.
Pelion – How to get there?
Pelion is located 4 hours north of Athens and 2 hours south of Thessaloniki. The mountain range belongs to the Greek region of Thessaly, and the largest city is Volos. You can reach Volos by train, car, bus or plane. Volos also has its own airport, but this is only used in summer and only a few flights are available (mainly to/from Israel and England).
Getting to Pelion from Thessaloniki: The airport in Thessaloniki is very well connected. From the airport, you go to the train station and from there you can reach Volos by bus or train in about 3 hours. It costs about 20 euros. From Volos you can rent a car or take a cab to your accommodation.
Getting to Pelion from Athens: From Athens you can take the bus to Volos, it takes about 4-5 hours. By train it takes about the same time. You have to change trains in Larissa and from there you have to take another train for about an hour to Volos. The train tickets cost about 30 euros.
You can easily book bus and train tickets online at Hellenic Train.
Accommodation
In Pelion, you have the possibility to stay in cute little mountain villages or by the beach in Airbnbs, hotels or hostels. We stayed in the beautiful hotel Selina Centavrus. The hotel is located in the beautiful village of Makrinitsa (more on that later) and has 20 rooms and a dorm. Like all Selinas, the whole property as well as the rooms are super tastefully and stylishly decorated. We had an incredible view over Volos from our room and the beds were super comfortable. We felt at home for two weeks in this beautiful place in the mountains.
They also have a cozy sitting area with games, books, a projector, and a small kitchen. One of my highlights was definitely the incredible breakfast, which we got served every morning in the sun on the beautiful terrace. You could choose between 10 different dishes – everything was always prepared with so much love! And while sipping your freddo cappuccino, you could enjoy the breathtaking view over Pelion, the gulf and Volos. The Selina Centavrus also has a wellness area, at the very top. Perfect to start your (work) day with a workout or some yoga. The staff was great, super sweet and helpful! We will definitely be back 😉
Remote working from Volos or Pelion – How is the internet?
The internet in Volos is good, at about 50 Mbps on average. Downtown you can also find some coworking spaces, e.g. Open Office Volos. The internet in Pelion, or at our place in Makrinitsa … was not the best 😉 That's simply due to the very old line from Volos. The general wifi in our hotel had a speed ca. 5 Mbps, but there was an external router with about 15 Mbps. We mostly used the hotspots from our cell phones. We definitely recommend buying a local SIM card from Cosmote – this will give you the best reception and the most stable connection. On WorkfromGreece, you can also find a lot of information about remote working from Greece. Also, there are some Meetups for Digital Nomads happening in Volos every now and then – just check on Facebook and you'll find the details about the upcoming events.
Five things you should definitely do on the Pelion peninsula
1. Train ride with the Pelion train "Moutzouris"
This ride with the steam locomotive was definitely one of my highlights – a great experience. Nowadays, the Pelion train runs between the villags of Ano Lechonia and Milies. The train's only stop is at Ano Gatzea station, from where it travels to Milies. It takes about 90 minutes in total to complete the 15km line. During the ride, you will almost continuously have a spectacular view over the bay of Pagasitikos, gorges, magnificent old bridges, tunnels…. The Pelion Train departs only on weekends, at 10 am from Ano Lechonia and at 3 pm from Milies. Tickets for the round trip are 18 euros. You can book them online beforehand here or buy them at the train station in Volos.
2. Horseback riding
Pelion offers a great landscape for horseback riding! There are some horse farms, so we chose Ifom Greece – a family-run farm located close to Kala Nera. There we went for a ride for two hours. Our ride went through olive plantations, and forests, to the beach where we enjoyed the golden hour (did I mention that this is my favorite time of the day?! :P) . I haven't ridden in years – highly recommend it, there is something very calming about it … and I mean, look at these pictures… 😉
3. Exploring Pelion's mountain villages
There are so many cute little mountain villages to explore in Pelion. The most beautiful one, in my opinion, is Makrinitsa, where we lived. The square of the village is huge, where you can visit two ancient plane trees, sip a frappe and take in relaxing vibes of the village. In the bakery, which is located directly on the square, you get the best pies. But you have to be early – when it's empty, it's empty and the bakery closes. We really enjoyed drinking a coffee or beer in the Art Café – comfortable sofas and a great view. Regarding food in Makrinitsa, I can highly recommend the Peliades Restaurant. From here, you can enjoy a beautiful sunset and then treat yourself to some really good local food. I can only recommend pasta with lamb and capers.
Milies (the place where you arrive with the Pelion train) is also definitely worth a visit. Here, you also have a big marketplace with a unique church. In the museum, you can learn a lot about the history of Milies. It is also worth visiting the library – there you can admire ancient books.
We had lunch in "The Salkimi" restaurant, which was one of the best meals we had in Pelion. Be sure to order the stuffed zucchini flowers and the zucchini puff – WOW! After a delicious lunch you can have a coffee at the café «'Αννα να ένα Μήλο» (Anna, here is an an apple) where you will definitely be busy looking at all the old signs on the walls. A great place to stay in Milies is this Airbnb – an old family house with a huge living room with a fireplace, a big balcony with amazing views, a garden, and two bedrooms. The owner Eva grew up in Milies and is super sweet and helpful.
4. Explore beaches on the peninsula
Not only mountains but also beaches – and beautiful ones! We were there in October, but it was definitely still warm enough to go swimming. You have a choice of beaches on the Pagasitikos Gulf or the Aegean Sea.
Fakistra beach is unique but be careful… the road is very bad. In case of oncoming traffic, you should keep calm. In summer, the beach is supposed to be very crowded, so I would not recommend it. For the way down, I would recommend proper shoes and not flip-flops.
Mylopotamos beach – a dream! You can park at the top of the road and walk down the small path. At the bottom you'll find a small beach bar. When the sun is gone, you can just go to the beach to the right of Milopotamos, there you have about 1-2 hours longer sun.
For all Mamma Mia fans – did you know that a scene from the famous movie was filmed in Pelion? It was filmed at Damouchari beach! We were unfortunately not there – but have heard only the best about it.
Another beach worth visiting is Kala Nera, which is located on the southwestern side of the Pelion and offers a unique view of the bay. The promenade invites you to stroll, and invites you to enjoy a beautiful sunset. Best with a cold Mythos beer and a portion of tzatziki – Yamas!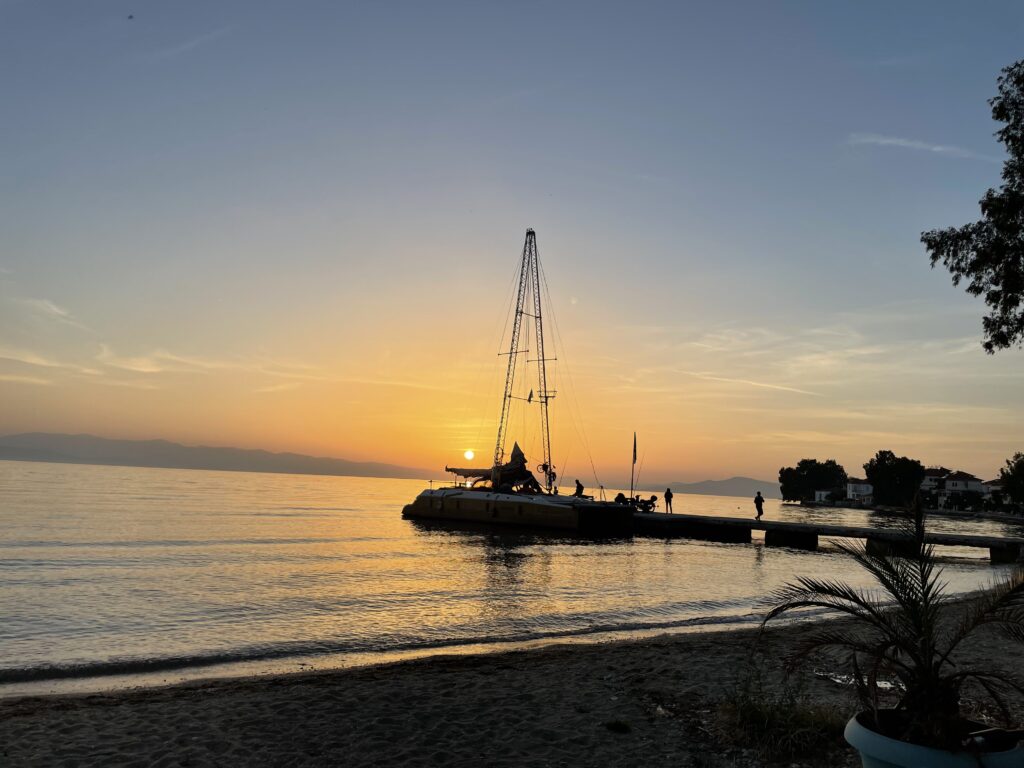 5. Go on some adventurous hikes
Pelion offers over 120 different hiking routes in different levels. The hikes are well-marked. We did a day hike with Giorgos, whose company Cycle and Hike offered different hiking and mountain biking tours. We did a hike from Makrinitsa to Statiages via Portaria back to Makrinitsa, which takes about 2 hours.
I can also recommend the Centaur's (Kentavros) Path. Pelion is considered the home of the centaurs – half-man, half-horse. The Centaur's Path starts at the entrance of Portaria village, about 20 minutes from Volos. From there, you walk for about 20 minutes along a small stream over a few bridges up the mountain. You can either go back through the village or walk back down the same way. For me, this place had something magical and very calming. Especially in summer, it is a bit cooler there. Walk through the forest with your eyes open – maybe a centaur will cross your way 😉
Extra tip: Don't leave Pelion without drinking tsipouro! 😛
Tsipouro is a traditional grape-distilled spirit from Greece – with or without anise. Drinking tsipouro is a gastronomic and cultural tradition of the city of Volos. It is more than just a visit to a tsipouro restaurant or much more than just a way to eat a lot for little money. Tsipouro drinking in Volos is a social event that plays an important role in the lives of the locals. In a typical tsipouradiko, there is no menu – you eat what comes to the table! A small plate with meze… small snacks, mostly fish, but also meat or vegetables – whatever is there. Is comparable to the tapas from Spain. With each tsipouro, a new plate with different meze is served.
Good to know: the more you drink, the "better" the food becomes. In the end, you only pay for the tsipouro, the food is free 😉 Most of the time you pay about 15-20 euros per person. The best places for tsipouro are: Mezen, Flokos, or Παραδοσακό Ουζερί. If you like trying different things, I highly recommend it – I loved it! My recommendation: go with a small group, so you can try more Meze … and drinking the tsipouro becomes more fun 😉
The best season to go (and work remotely from) to Pelion
… ALWAYS! 😉 This area really has something to offer in every season. In summer there are a lot of tourists from Israel and England and the beaches in Pelion can get very crowded. That's why I would recommend spring or fall for a vacation in Pelion! Especially in autumn, when the leaves shine in all those beautiful red, yellow, and orange tones, the apples, plums, and chestnuts are ripe, the area has a special flair. We were there in October and had only two days of bad weather in two weeks. Sun was shining, it was about 20 degrees and the water was still warm enough for swimming.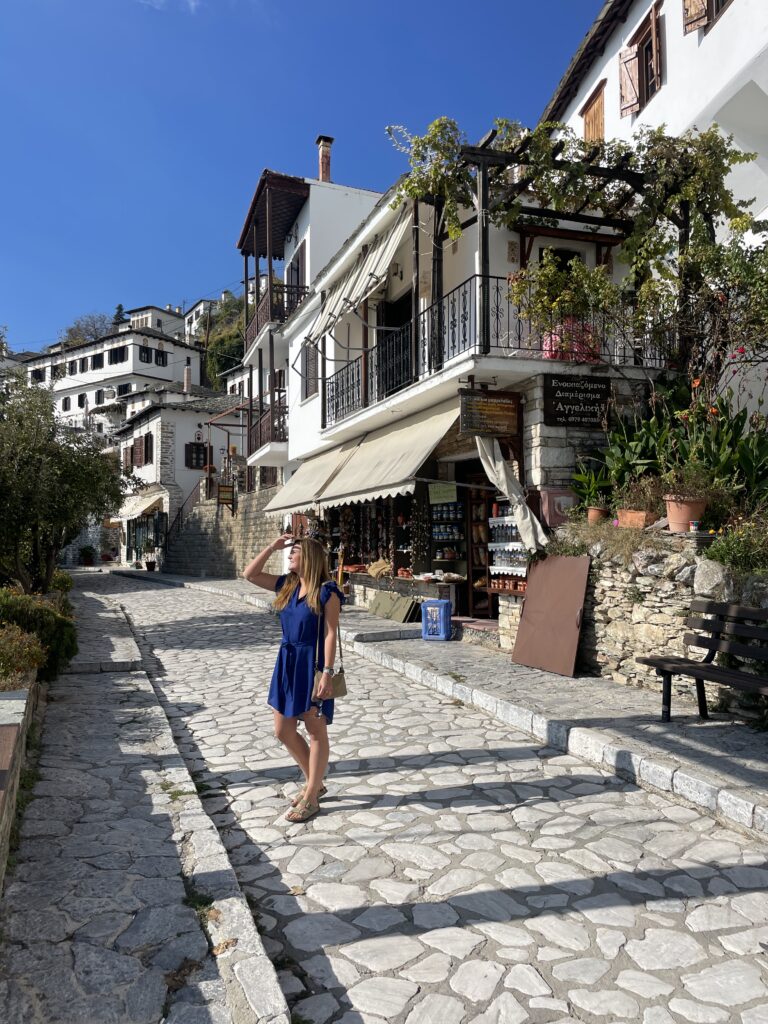 So – is Pelion already on your bucket list? I've been flashed by the area & I will definitely come back. On my
Instagram channel Travelbuddyanna you can get more impressions of Pelion, in my Story Highlight I have saved all the important info. Jassu!
In summary
Mountainous villages
Stunning beaches
Activities in nature for everyone
Local delicacies & drinks
Perfect destination for digital nomads